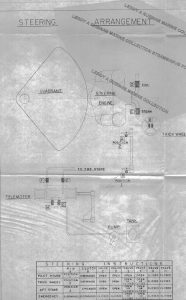 Dimensions:
Length Over All 440 feet
Length of Keel 420 feet
Beam 50 feet
Depth 28 feet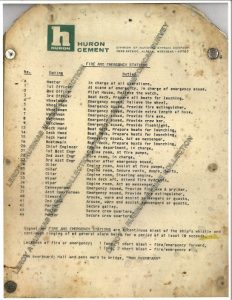 Engine:
Triple Expansion Reciprocating
Shaft Horsepower 1,500
Diameter of cylinders
High Pressure 22 inches
Intermediate 35 inches
Low Pressure 58 inches
Length of Stroke 40 inches
Self-unloading diesel engine:
Engine Mfg. by NORDBERG
ORDER NO. 9040-0617
MODEL FS-136-HSC
BORE 13 1/2″ STROKE 16 1/2″ RPM 514 BHP 1450
SUPAIR THERMAL ENGINE
MILLER SUPERCHARGEING SYSTEM
INLINE SIX CYLINDER
YEAR 1959
Tunnel Thruster:
Bird-Johnson 350 H. P. 9000 lbs. of thrust
Installed Winter layup 1965- 1966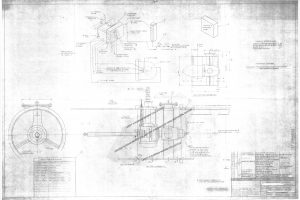 Steering Gear:
The Current Steering Gear was installed on the ship in 1959 during conversion
The unit weighs 7000lbs for the engine and slightly more than 7000lbs for the quadrant
The steering gear was one of many built for World War 2 cargo ships
Built in Seattle, WA.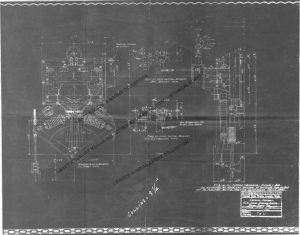 Tonnage as Edwin  F. Holmes
4787 gross 3517 net
Tonnage as E. C. Collins
4132 gross 3001 net
Tonnage as J. B. Ford                 
4368 gross  3199 net
Official Number
200666
Hull Number 
329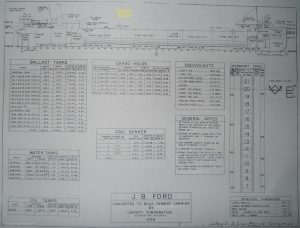 Cargo capacity in 1904
7,000 tons of iron ore
7,500 tons of coal
draft 18 feet for both cargos
Cargo capacity in 1959
7,400 tons of cement
draft 20 feet 1 inch
Ballast Manholes & Sounding tube details